Kenmore Art Show accepts brand NEW Ann Cory painting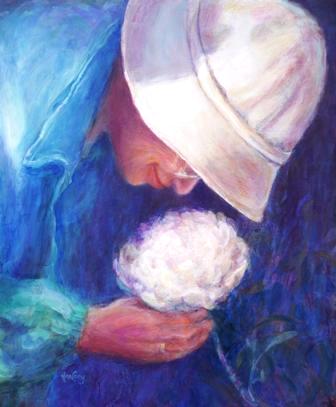 I took the photo of my special friend, Charlotte, several years ago. Charlotte is the one who years ago introduced me to the new and beautiful irises by leaving a "Mary Francis" in all its periwinkle blue beauty from her garden for me to enjoy. She planted interesting heritage type geraniums from seed that had beautiful foliage. She grew towering hollyhocks and sunflowers. She nurtured her flowers like they were her beloved children ~ each on had a story and place in her heart. Then things in Charlotte's life changed after her husband passed away and we helped her prepare her home for sale so she could move to a better, safer place. We had finally finished the project and she went to walk in her large, flowered backyard one last time. The afternoon sun kissed her for a moment as she bent to lovingly smell and enjoy the beauty of her special peony from the Montana family ranch where she grew up. Anyway, this pathos and the beauty of her life, her love of gardening, her bravery are all in this painting ~ or at least those things were in my heart as I painted it.


Be the first to post a comment.

Previously published: