6/11/14

If you should want to, be able to, see the 16th Annual Kenmore Art Show and

Jack Dorsey

's and my paintings there, here's the deal. June 26th - Sat. June 28, 2014 10 A.M. to 8 P.M. and Sunday June 29th 10 A.M. - 7 P.M. the show is open to the public. The Kenmore Art Show is being displayed on "the lovely campus of Bastyr University which is located on the north shore of Lake Washington and surrounded by the 316 acre St. Edward State Park". Wow! sounds beautiful ! The exact address is: 14500 Juanita Drive N.E., Kenmore, WA.


Be the first to post a comment.

6/11/14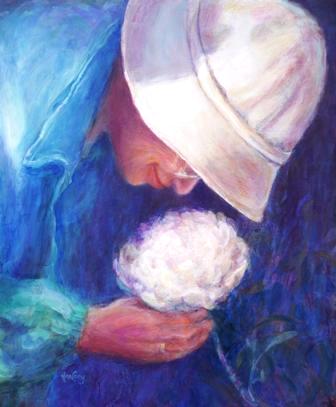 I took the photo of my special friend, Charlotte, several years ago. Charlotte is the one who years ago introduced me to the new and beautiful irises by leaving a "Mary Francis" in all its periwinkle blue beauty from her garden for me to enjoy. She planted interesting heritage type geraniums from seed that had beautiful foliage. She grew towering hollyhocks and sunflowers. She nurtured her flowers like they were her beloved children ~ each on had a story and place in her heart. Then things in Charlotte's life changed after her husband passed away and we helped her prepare her home for sale so she could move to a better, safer place. We had finally finished the project and she went to walk in her large, flowered backyard one last time. The afternoon sun kissed her for a moment as she bent to lovingly smell and enjoy the beauty of her special peony from the Montana family ranch where she grew up. Anyway, this pathos and the beauty of her life, her love of gardening, her bravery are all in this painting ~ or at least those things were in my heart as I painted it.


Be the first to post a comment.

6/11/14

This painting was developed from a photo I took of a Kingfisher I spied near a Camano Island pond. He was looking for his dinner and I was looking for art material ~ and I think we both ended up happy !




2014 Edmonds Arts Festival Juried Gallery art is displayed in the Frances Anderson Center, 700 Main Street, Edmonds, WA. and will be open to collectors and the public Father's Day weekend. (Friday and Saturday June 13, 14th 10 - 8, and Sunday June 15th 10 - 6). Hope you can go and enjoy the fun !


Be the first to post a comment.

Previously published: